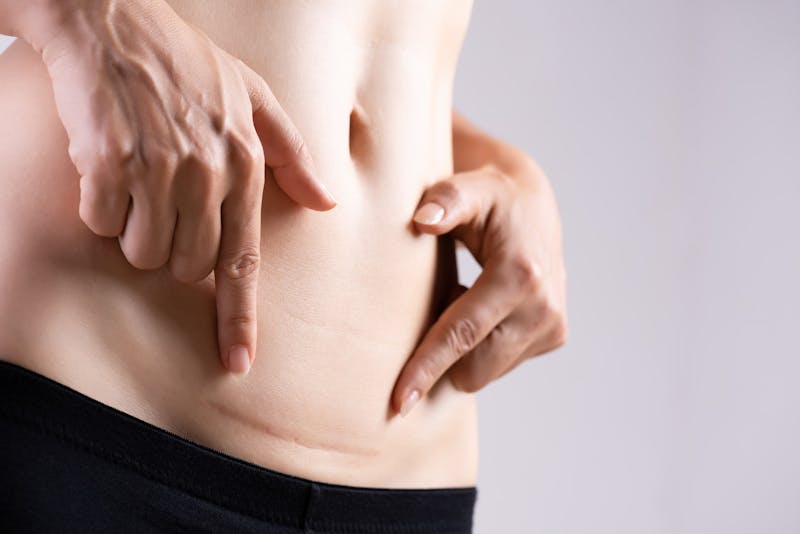 With a medical or cosmetic procedure in mind, many patients find themselves stressed and worried about scarring. As we know, any incision will result in a scar. How you care for the incision and healing post-op can determine the severity of scarring you will experience. Arming yourself with information is the first step to understanding and overcoming surgical scarring.
How Are Surgical Scars Caused?
Any time a patient undergoes a surgery that involves opening or altering the skin, there will be the possibility of surgical scarring. This is caused by the body's natural production of collagen in the skin to create thicker tissue around the incision. This aids in closing wounds and continuing the healing process. There are many factors that will affect surgical scarring such as, the extent of the surgery, the location of the incision, the age of the patient, the skill level of the surgeon. Larger or deeper incisions will cause a more prominent and permanent scar whereas a surface level procedure may result in minimal scarring that can be minimized in appearance by proper aftercare. Likewise, younger patients, with more collagen content in their skin are more likely to recover from surgery with a lesser amount of scarring than their older counterparts.
How to Address Surgical Scarring
VIVIFY is proud to offer various treatment options available to minimize the appearance of surgical scars. The first goal is prevention. This is done by surgical technique and early postop scar care. Tension offloading with special bandages, tapes, or dressing can help early scar formation. Microneedling and laser therapy are both very effective options for early scar treatment to lessen scar appearance. Even injection of neuromodulators (Botox) has been shows to improve the appearance of scars if done early enough. If scars start to become hypertrophic (growing larger rather than getting smaller), they can be treated with injection of steroid. In treating scars after surgery, the primary things that all patients can do are: moisturizer, massage, silicone products, and sun protection. If all of these treatments still do not produce the desired scar result, then a surgical scar revision may be required. Scar revision surgery involves carefully creating a new incision over the scar that can heal more successfully with a lesser appearance of scarring than the original incision.
What Can Be Done to Avoid Scaring?
While some scaring cannot be avoided, there are numerous ways to avoid exaggerating the appearance of scars. Carefully following post-op procedures and care instructions is the first step. In addition to this a patient may consider;
Avoiding the sun-
Covering incisions and scars from damaging rays of the sun will not only help them heal faster but will ensure that they do not remain darker over time. Early scars tend to all be darker (pink, red, etc.) but with time should fade to a fine skin-colored line. However, exposure to UV rays can prevent this gradual fading of the scar. When possible, cover the scar with clothing. When covering the scar is not possible, it is recommended to use a sunscreen with a minimum of 30 spf.
Massage-
Massaging the incision and the tissue and skin around it can help break down the tough scar tissue that begins to form. This will also increase functionality if the incision is on a joint.
Maintaining healthy living habits-
Staying hydrated and nourished with plenty of rest will help the body with the natural healing process. If the body is preoccupied by making up for lacking healthy habits, the healing process will be hindered.
Silicone-
The use of silicone gel and/or silicone sheets have become more popular recently. Silicone gel can be applied directly to the incision to be absorbed completely while silicone sheets can be applied and left for periods of time. Both have been successful in minimizing scar appearance.
Steroid injections-
Less commonly, there is a type of scarring called Keloid scarring that is possible as well. If a patient is prone to this or begins to develop a Keloid scar, a surgeon may recommend steroid injections to lessen the effects of this type of scarring.
Infections and Scarring
It is important to note that in addressing surgical scarring, one must pay special attention to any signs of infection. Not only can infection cause much more severe scarring, but in some cases, infection could cause severe sickness and even death. If you notice excessive swelling or redness, call your surgeon immediately to have it checked out.
Speak With Us About Surgical Scarring
The highly trained team at VIVIFY Plastic Surgery in Tampa is ready to answer any of your questions about surgical scarring. Whether you are curious about the scarring that will occur after a desired procedure or looking for existing scar treatment, VIVIFY has what you need. Dr. Buchanan is a well-renowned, highly reputable, top-board-certified plastic surgeon in Tampa. His level of skill is necessary when concerning surgical scarring. While scarring is always possible, Dr. Buchanan has the years of experience necessary to complete many procedures with minimal scarring. For the scarring that exists or is inevitable, VIVIFY is here for you too. Call today for a complimentary consultation to see what the next step is for you! 1-833-284-8439