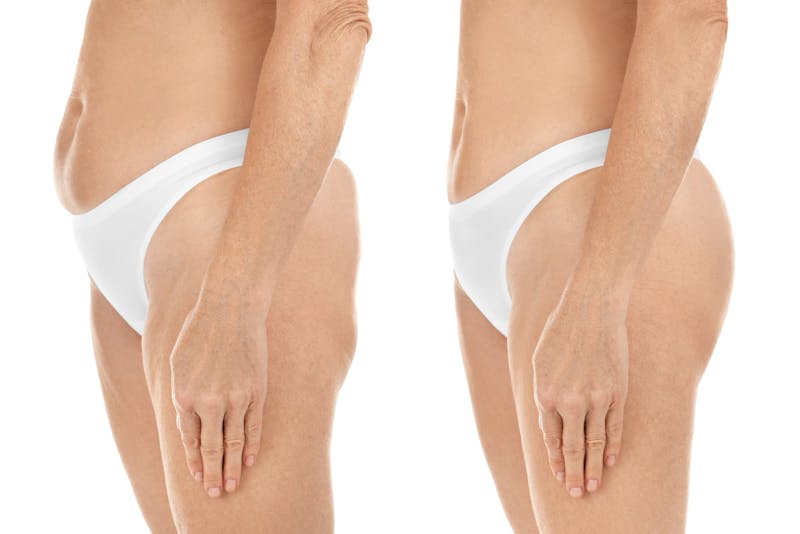 The advancement of medical technology offers many different approaches to healthy living in the modern world — but an age-old health question has remained at the front of people's minds since the development of cosmetic surgery. Is liposuction an effective form of weight loss?
Like all medical questions, the answer isn't as simple as we want it to be. No magic trick can "fix" someone's health overnight. Healthy living requires patience and discipline. Liposuction isn't a switch that can be flipped to cause weight loss.
Cosmetic surgery cannot replace the health benefits of a well-balanced diet and regular exercise. But liposuction, in addition to fitness and healthy eating, can be highly effective at reducing or removing fat from isolated spots. The team at VIVIFY plastic surgery in Tampa helps patients take a nuanced approach to improving their health
Visceral Fat vs. Subcutaneous Fat
To understand liposuction versus weight loss, it's essential to know the difference between the two major types of fat produced by the human body: visceral fat and subcutaneous fat.
Visceral Fat
Visceral fat is also known as "hidden" fat that's stored deep inside the belly around internal organs such as the intestines and the liver. Excess visceral fat is what causes the belly to stick out and in normal amounts can be normal but in elevated amounts can be a sign of other medical issues or disease processes.
Subcutaneous Fat
Subcutaneous fat is fat that's stored just beneath the skin and acts as "padding" for the body. When someone pinches the skin, they're grabbing subcutaneous fat. It collects primarily around the hips, butt, thighs, and belly.
Can Visceral Fat Become Subcutaneous Fat?
Although you may notice subcutaneous fat more on a person because it tends to show up in noticeable ways through belly rolls, batwings, or love handles, visceral fat can be a sign of other underlying medical issues. Both types of fat increase and decrease with overall body weight changes but certain patients tend to store one more than the other or store it in different areas.
A healthy, balanced diet alongside regular exercise is a very effective way to lose both visceral and subcutaneous fat. Meanwhile, subcutaneous fat loss can be very challenging and can sometimes be amenable to surgical procedures.
How Conventional Weight Loss Works
Did you know that humans have a set number of fat cells by the time they reach adulthood? And once a certain age is hit, the number doesn't really change.
It's a common misunderstanding that when a person packs on the pounds, they add a bunch of new fat cells that could later be "burned off." This is wrong. Instead, what happens during weight gain is a person's fat cells grow and stretch to hold the excess. The body does what it needs to do and carries the weight wherever it can, whether that's body rolls or bulges or other unwanted areas.
When a person loses weight through a traditional approach — eating healthy, exercising, or both — the fat cells don't burn off. They shrink to the appropriate, healthy size. This explains the root cause of stretch marks, as well.
How Liposuction Works
As we've stated, liposuction isn't a replacement for healthy living. But if other approaches to weight loss haven't worked effectively for some parts of the body, liposuction can help. The experts at VIVIFY plastic surgery will create a smart and safe plan for improving your body's health.
Don't expect a drastic weight change, though. The average liposuction surgery reduces someone's weight by two to five pounds. But what liposuction does do is permanently eliminate fat cells below the skin surface — a.k.a. that pesky subcutaneous fat.
A person who's had liposuction can still gain weight, but it's much more likely to go to other areas of the body. What liposuction offers is the opportunity to rid the body of the fat that's been resistant to diet and exercise, and provide a healthy foundation for future living.
When Is Liposuction a Good Option for Weight Loss?
A common misconception is that one needs to be heavier to receive liposuction. In fact, it's the opposite. The best kind of liposuction candidate is a person who lives a healthy and balanced lifestyle and is already close to their ideal weight. For that kind of person, liposuction really can transform someone's body. For patient's who are overweight, then traditional weight loss is a much more effective option and that patient may need more aggressive skin removal surgery after weight loss as opposed to liposuction.
Our Plastic Surgeon in Tampa knows how to create a healthy plan that properly utilizes liposuction as adding fuel to the fire. We get our patients on the path towards a healthy lifestyle as they continue to build their body into the one they deserve.
Contact VIVIFY plastic surgery for a liposuction in Tampa today.