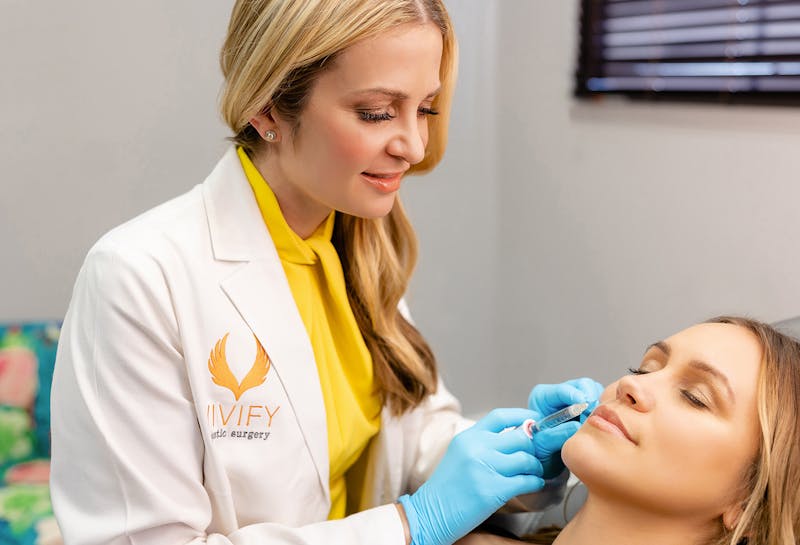 As we age, we lose collagen and start losing collagen in our 20s. Sculptra contains Poly-L-Lactic Acid, an injectable biostimulant that stimulates the skin cells and the natural tissue to produce collagen. You can expect naturally beautiful, youthful volume that defies aging without the telltale signs of "getting work done."
Is Sculptra A Filler?

Sculptra can be injected in the mid and lower face to stimulate collagen formation. It is sometimes called a dermal filler, but it differs from Hyaluronic Acid Fillers in the following ways:
When HA filler is injected, the result is seen instantly; Sculptra is a more gradual process and will likely need at least 2-3 sessions 2-3 months apart for optimal results.
Sculptra can be part of an overall treatment plan or can be used to add volume to the face without using Hyaluronic Acid fillers.
Sculptra lasts two years, and HA fillers can last six months to one year, depending on the area of the face.
Sculptra stimulates the body to produce volume, while HA fillers are injected to add instant volume.
The VIVIFY Difference
At VIVIFY Plastic Surgery and Medspa, one of our favorite ways to enhance collagen stimulation is combining Sculptra with microneedling with PRP. Microneedling with PRP promotes collagen production superficially, and Sculptra stimulates collagen production subdermal/subcutaneously (underneath the skin).
Sculptra is typically injected with a needle or cannula after applying a topical numbing agent. The procedure takes about 30 minutes after numbing. The Sculptra particles are mixed with sterile water and then injected. The water will cause the face to appear fuller instantly, but over 2-3 days, the sterile water will be absorbed by the body, and the helper cells in our bodies will come to the site of the injected particles that remain present after the water is absorbed.
This is when collagen production begins, but it can take several months to visualize full results. Your skin will feel smoother after 1-2 weeks and appear to have a slightly better texture while collagen production occurs.
Redefining Beauty With Sculptra: Michelle Buchanan, NP APRN-C

Michelle Buchanan is a board-certified nurse practitioner from Tampa, FL, specializing in various medical treatments such as neuromodulators, fillers, lasers, microneedling, and peels. She co-owns VIVIFY Plastic Surgery & Medspa and is the primary Sculptra provider. Michelle earned her Bachelor of Science in Nursing from Auburn University and worked in level-one trauma centers in Alabama and Pennsylvania. She also taught pharmacology to Radiology Technologist students at the University of Pennsylvania.
Michelle's passion for nursing led her to pursue an advanced degree and become a Nurse Practitioner to serve her patients and community better. Her personalized approach to care and extensive experience have made her a trusted provider in the industry, contributing to the success of VIVIFY and the field of plastic surgery and medspa services.